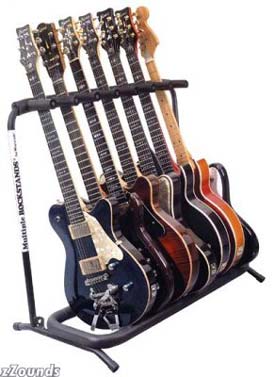 I have 5 guitars, 6 if I count the one I use going down the river in a canoe, but I only have one stand. It would be nice to be able to have all of my axes on stage at once, if only to make the audience think about it, am I mischievous or what!
This 7 guitar stand looks great and functional. From the reviews I've read the results are very favorable. Plus it's said to be easy to put together. I have to admit that I have in the past I have had extra screws left over in my hands while putting together projects that I have no idea what to do? Come on readers, I'm not the only one to have done this!
Has anyone out there purchased this stand that can help me or us out in a final decision?
Keep on Jammin'

Share and Enjoy