This is a great loss to the Entertainment world and to my childhood memories! Growing up in a small town with around maybe 10 TV channels to choose from, not to mention the telephone party line that we shared with God knows who, but boy was this guy a welcome diversion to any child in the 70's.
This guy jumped over anything that he could see! You all must remember his famous jump over the Caesars Palace water fountain. That one was just scary to watch even as a little kid. The best one was when he jumped the Snake River Canyon. To bad that his para shoot opened up way too early. Evel also did a jump of 13 Mack trucks at the Canadian National Exhibition (CNE). Now that was the original dare devil!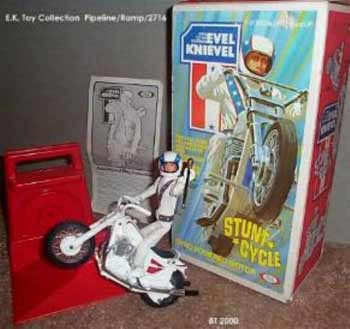 I didn't have posters plastered all over my bedroom, but I did have this great little Evel Knievel action figure with his trade mark Harley Davidson toy bike and this bike holder that had a crank on the side of it to wind up this puppy and release them with a good amount of speed. The cat hated it though, mainly because I kept firing it off to the cat throughout the house with great glee!
So here is to the great pioneer of Motor Cycling Dare Devils!
Keep on Jammin' Evel, wherever you are!
Share and Enjoy