Good old Peter has been one of those great friends growing up in my early moving to Toronto period! We lived together at this dorm called Co-op Housing in the late 80's.

Peter and Jeff Healey.
We soon found out that we were both guitar players early on and really liked our own playing styles. he was a lover of the blues then and now has taken it to a higher level today!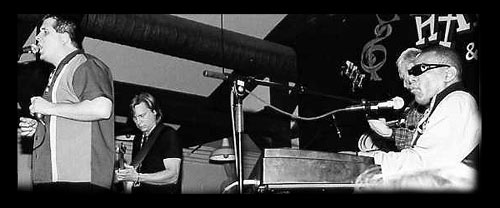 He use to be in a band with a few other high school and fellow Co-op students in a band called "The Big Kahuna". They played mostly Stones, Red Hot Chilly Peppers and my favorite band that they covered perfectly was The Black Crows.
While gigging one night at a bar at 1130 Queen St East, called Stratengers, and I videoed them live and it was the start of my love affair with the video camera! I found a copy of it on a old "C tape" and when I can, I'll throw it up on youtube for you all. Oh those were more simpler days. I don't think that they have bands playing there but according to most T.O. pizza critics they have the best pizza on Queen St not to mention some awesome east Indian food!
He has played in numerous great blues bands, has toured extensively in Canada and the US and lives around 4-5 months of the year in Cuba! He teaches out of his condo in North York and just lives and breaths the blue 24/7. I STRONGLY SUGGEST that if you are looking for a serious blues teacher then he would be the be all and end all of your search! If you choose to contact him pleas tell him to "Do it up BIG TIME" and you'll get a free first lesson!

Peter with his band in Cuba.
Please go to his site and check out for yourself his playing and PLEASE LEAVE a comment or e-mail him, it would be a favour for me if you did! If you do so, I'll give you a free lesson off line and make it worth your while!
As Keith Richards would say "Love Ya Live!"
Keep on Jammin' (Peter Schmidt)
Share and Enjoy