I ran across this picture online and considering I'm a Beatles fan I just wanted to share this with you all.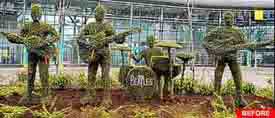 Unfortunately, some idiot was not a big fan of Ringo Starr, and decided to take this into his/her own hands, or should I say pruners! And Ringo was a favorite of mine to boot.
We still love ya Ringo.
Keep on Jammin'
Share and Enjoy