The Seattle Pop Festival's July 1969 dates was a show to rival Woodstock in some peoples minds, just ask the Guess Who, who was there for this monster of a music festival. It was held in in Woodinville, Washington.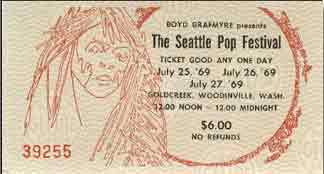 Check out the line up for this one!
Led Zeppelin, the Doors, Chuck Berry, Santana, The Byrds, Ike and Tina Turner, The Guess Who, Chicago, and Bo Diddley, just to name a few. They played in front of an estimated 40,000 to 70,000 people. Now that was a show to be at. Imagine the ticket prices on today's market for an event such as this one.
Led Zeppelin fanatics, refer to the sound board recordings, from this show, as the Holy Grail of Zeppelin recordings. The Doors didn't get off so lucky. Jim was out of his mind, screaming and insulting the crowd. Even Zeppelin felt embarrassed for the other band members! This was Zeppelin talking here, remember their legendary tour shananogins?
Keep on Jammin'
Share and Enjoy