The Nanohead from this company called ZVEX, is considered the smallest Tube amp in the world. For those of you tired of lugging those big heavy mothers up and down stairs, this puppy could very well save you from back problems later on in life (Ha, ha)!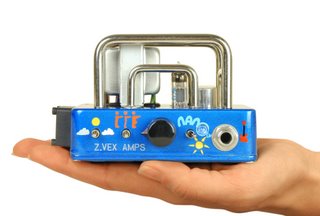 This little baby comes in one colour, has a universal adapter for use in any country.
It has a tone(both high and low) control, a brightness control (only works @ low volume) and comes with a 1/4 inch plug for your external speaker hook up (8 or 16 Ohm cabinets only).
The thing that I got a laugh from the video is that it comes with an internal speaker. It has a self resetting fuse, which I like. There is a tiny little light that tells you that you've blown the fuse on it.
It has a 12 volt power supply and a mini fan to cool this hot little puppy down when your axe is pushing it to it's limit!
A perfect little gift for all you camping rockers out there!
Keep on Jammin'
Share and Enjoy