Now we are getting to the end of my Tronical PowerTune segment. This revolutionary tuning system I'm sure will be the standard for years to come for very serious musicians and ones with deep pockets.
This revolutionary approach in tuning ones guitar seems to be a dream come true for most players. The most nerve wracking part of playing live is that, in your mind, you are taking way too long to tune your axe. While doing this many times through out a show, you feel the attention that you may of had from the crowd float away, right in front of your eyes!
Some of the main technology that is used for this system is embedded in bridge. The bridge is also known as the tail piece or saddle to some. This part is basically the ears of this process. Here with the help from piezo pick up technology, a well insulated bridge has been designed to the highest of spec's. It here that the actual calibration for each string is generated.

This function is of the utmost importance to the tuning of the guitar. Each individual string gives off a sound or vibration when you hit it. Now this is where it gets crazy, each and every string has to be perfectly isolated from each other in order to focus the tuning controller on each and every string … at the same time no less. This is no small feat to have achieved!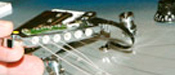 If you don't play guitar, the next time your around an acoustic guitar, strum down VERY HARD on all strings and place your pinky finger across the bridge (where the strings are attached to the body of the guitar, where you strum it in other words) of the guitar. Have your thumb pointing upwards to get the best results. You will now feel all the strings, going through this bridge and it vibrating like crazy! So imagine what it must take for a technology to baffle or insulate each vibration, which is each string, all at once. Now I hope that you are getting the overall picture.
Keep on Jammin'
Share and Enjoy