This was a very popular BBC2 television music show that ran from 1971 to 1987. It was the British version of North American's Don Kirshner's Rock Concert show … or is it the other way around? It first went on air in September 1971 and lasted for 16 years. The final show was broadcast on Dec. 01, 1987.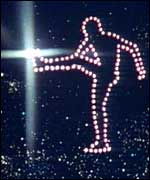 I just happened to run into this gem of an old show while researching my post about Allan Holdsworth on this blog.
… a 'tin pan alley' phrase from years ago. When they got the first pressing of a record they would play it to people they called the old greys [doormen in grey suits] . The ones they could remember and could whistle having heard it just once or twice had passed the old grey whistle test. The meaning behind the name
To say that it became one of the most influential music shows for a generation would be an under statement.
This show had everything you wanted in a 1970's – 1980's Rock & Roll variety show! I've never seen this show, but maybe that was because I live on another continent! Anyways, check out the line up of who played on this show!
The first British TV performance of Bob Marley and the Wailers, U2, The Ramones, Supertramp, Eric Clapton, The Police, John Lennon Lynyrd Skynyrd, Talking Heads, David Bowie (beautiful) and Edgar Winter Group, just to name a few!
"I owe my whole solo career to The Old Grey Whistle Test. Mike and Bob were the only people who had faith in 'The Six Wives of Henry VIII' Rick Wakeman
They also did some great interviews of the musicians of the time. Keith Moon, The Rolling Stones, A very young Muddy Waters, Tom Scholz and Brad Delp of Boston, John Lennon part 1 & 2.
Another way to promote bands that where not actually playing on the show, was making a video of the song, specifically for the show. I've never heard of any show, or band for that matter doing something like this. It is really a testament to what lengths a band would go to, just to be put on the show! Led Zeppelin, Mike Oldfield were some of them!
So hats off to the grand old lady of British Rock Variety shows, The Old Grey Whistle Test!
Keep on Jammin'
Share and Enjoy