Our hearts and prayers go out to all the passengers and their families of Continental Flight # 3407 this past week that crashed near Buffalo NY. The ones that stick out in my mind are the ones that played in Chuck Mangione's band. They were guitarist Coleman Mellett and woodwind player Gerry Niewood. They will be sadly missed by not only all lovers of jazz music, but the entire world.
Like everyone else who heard of the tragic news, I was not aware of who was on this flight until many days later. At first, the news is another headliner. You don't have a connection with it, except for the fact that the people on board were human beings.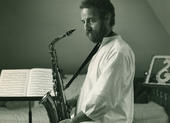 Then comes the news that some of the passengers were musicians. That they were the ones who played songs that you grew up with and have attached fond personal memories with these songs they played. You think, well the song will never be the same again because of the lose of these people, but as long as you have those memories, the song remains the same!
Keep on Jammin'

Share and Enjoy