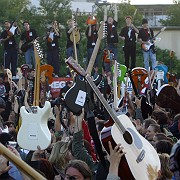 So it's official, Neil Young's 1969 classic Helpless is the song chosen by voters for next Saturday's gathering of guitar players in Toronto's Dundas Square.
This is the song that will hopefully bring Toronto the Guinness World record for the most guitar players playing in an acoustic ensemble at once! The record currently stands at 1802. That is how many gathered in 2007 in Leinfelden-Echterdingen, Germany, to play Smoke on the Water.
I hope that some of my readers from the area will be attending this event. I know I've got a few buddies of mine showing up from in and out of town.
The link for the tablature is here so check it out and start practicing! BTW it's 2:pm Saturday June 6th, at Dundas Square, Toronto.
Remember, if your going drop me a line and we'll hook up before the gig!
Keep on Jammin'
Share and Enjoy