This custom made guitar, the Wangcaster, is certainly something that I would never want to play … at least in public!
The guitar, according to it's maker, started off as a Cort Stratocaster.
He bought it on-line and started to take it apart just for the fun of it. These things are quite cheap you know. The guy then found out that it is basically made of plywood, you get what you pay for!
He then thought that he'd get a piece of Cherry wood and made the body of the guitar. The guy then picked up some maple for the headstock (no pun intended!) then created a pick guard and there you have it.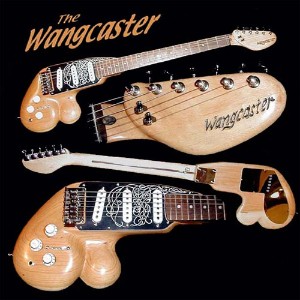 Keep on jammin'
Share and Enjoy