James McCartney sounds nothing like his dad Paul but damn it does this guy rock! I noticed this while looking through some Google music news and I saw this article from the BBC talking about his father Paul McCartney's band playing at Cardiff's Millennium Stadium in June in front of tens of thousands of fans while his son will be performing at a much more smaller and intimate venue. I read it and then decided to find out more about this guy and I am honestly impressed with his style of music. I realize that James McCartney musical career is just starting to blossom but it looks like it will be a neat ride.
On James McCartney's MySpace page, he has only 2 tunes up right now. The first one Angel has this indie/pop kind of feel to it. Then the track titled Medley is up next with bits and pieces of What does it mean, Fallen Angel and the last two I'm not sure of this.
The first song Fallen Angel has this clean rocking sound to it, with a hint of Nirvana thrown in. The only way to describe Jame's vocal's here are a full throttle scream! Then we're introduced to Fallen Angel. This is a beautiful, delicate piano piece fading in with some nice strings (violins) soloing in it. The next one up is a return to a more pop/rock theme tune. The end part of medley, spins itself in yet another direction that resembles something that would not sound out of place if Steve Winwood sang this one. This one I like a lot.
James is certainly blessed with his father's upper vocal range, that's easy to see in this live version of Angel! He clearly demonstrates that he is a multi-instrumentalist in Fallen Angel. He also plays a mean mandolin as well! With a good profile shot of him in that video, he bears a striking resemblance to his old man don't ya think?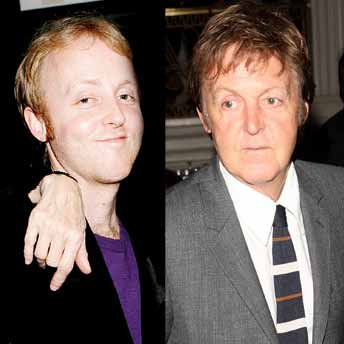 "I went to Scotland a lot on holiday each summer with my family and I was in the womb when my mum and dad did Mull of Kintyre, so it means a lot to me – great memories of my mum and my family." James McCartney
Keep on Jammin'
Share and Enjoy