The Spider Capo by Creative Tunings looks unlike any other capo that I have ever seen. It looks like a very sturdy device to use and it certainly has many applications at it's finger tips. I myself have not used a partial guitar Capo before but I'd love to take the Spider Capo out for a spin. It may look like something that a band from the movie Mad Max uses, but it's very functional.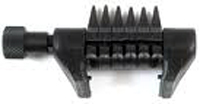 I first came across the Spider Capo in my Acoustic Guitar(AG) May 2010 issue on pg. 29. They say that the six rotating levers (Creative Tunings refer to them as Fingers) maybe a little bit delicate to get use to, but it definitely appears to be worth getting use to. The Fingers are also fine tune adjusters as well.
The Spider Capo is made to support any type of guitar, either acoustic or electric, that you play on. The adjustable side arms accommodates any guitar neck width with dense leather pads that will save the finish on your guitar neck. There is also comes a banjo version as well, very cool!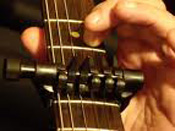 The Spider Capo has the capability to capo each individual string as well as to used as a regular capo. Imagine being able to not only play in front of a capo but behind it as well! It offers the guitarist the selection of multiple tunings that can help you develop a big, full colourful sound. This is something that really gives me unlimited enthusiasm for this accessory.
My favorite example of what it can do for you is in the video from Brian Gore. It's when he is performing Fringe Hinge. It has unmistakable echos of the Great Micheal Hedges to it. In this video Staffan uses 2 Spider Capos on his guitar at once.
Pay special attention near the end of this piece where you can see him adjusts his top capo on the fly while playing the tune. You can hear the chord changes that he shares with us during a difficult part in the song. Tell me you wouldn't want to have that capability in one of your creations.
Being a guitarist who loves to provide a full tonal sound to the audience. If I had a Spider Capo, I would love to see what results I would have with it, particularly when playing certain melodies in concert with open string accompaniment!
Their site is just chalk full of video and audio examples on how to put this futuristic looking capo into play. They call this section Performance Examples. Creative Tunings provide us with tons of cases here that will enhance your own distinctive style of guitar performing.
If your not quite sure on how the Spider Capo works, then check out this link and go through the intro tutorial. It will help you in how to use it into proper perspective for ya. Creative Tunings also provides us with a nice informative downloadable PDG file for sample tuning starters.
This unique guitar accessory has made me want to go out and pick this thing up! When I do, I'll give you all a hands on description on how it works, stay tuned!
Keep on Jammin'
Share and Enjoy