I recently came across this great picture of a very unique guitar on a guitar forum. I have NO IDEA of the origins of this elderly instrument but I will continue on my search for it's maker(s) or owner. If you have any info. about this guitar, please tell me.
When you look at the head of this guitar you see what looks like bell horns on it (think of a end of the trumpet if you would). If you are a follower of the hit HBO TV series called Boardwalk Empire, there is this violin player in the band, that has a similar bell at the head of his violin. This instrument is called a Stroh Violin. Click here for more neat pictures of a Stroh Violine for a better detailed look.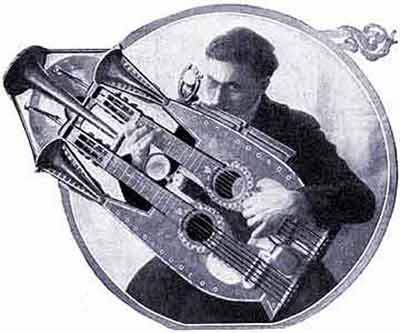 A Stroh Guitar looks like it would be uncomfortable to play but hey I'd be up to it.

Keep on Jammin'
Share and Enjoy