I find this six stringed Bass guitar has an altogether organic look to it. The craftsman who designed and created this working piece of functioning art, did a fabulous job on this one.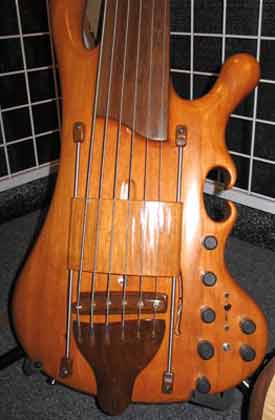 The sliding piece of wood or guard is a mystery to me. Is it designed to rest the palm of your hand when playing, protect the pickup on it or just a futurist design that the artisan brought to the piece?
Speaking of the pick ups, I wonder how many there are on it. I think 3 but it's only an educated guess. Any idea's here folks?
The tail piece closely resembles the ones that you see on violins and violas. It brings a classy appearance to it. The knobs on this craftsman looking bass looks like it has active electronics in it. I bet this instrument weighs a ton! Do you think that the scalloped looking handle are actual handles for the bass so you can carry it upside downs?
Keep on Jammin'
Share and Enjoy