This is a picture of a really neat looking bass that has a fantastic carving of a snake incorporated into it. Instrument(s) like this appear like they are made just for looks. Either made for looks of to play, this one will keep your eyes glued to it for hours.
I especially like where the bass luthier places the tuning pegs. It took me a few seconds to notice this, do you see where they are? Hey Chris, if I win the lotto, I'll pick one up for ya!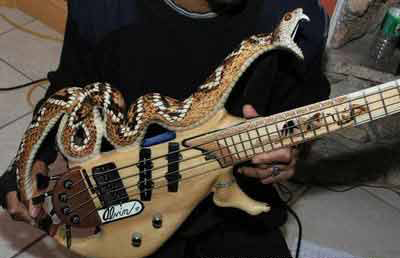 If you happen to own this bass we'd love to hear more about it.
Keep on Jammin'
Share and Enjoy