Finally there's another use for all those broken hockey sticks filing up Canadian landfill sites across the nation: custom-made guitars! Brant, remember when you broke that $200 hockey stick when you tried out for the Brockville Braves (congrats for making the team BTW), tell your dad not to get so upset and just pick it up and make a guitar instead of throwing it out!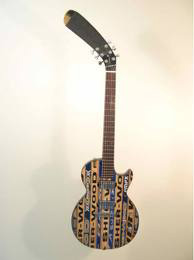 The Canadian guitar Luther, Vincent Latulippe, makes one of a kind custom-made guitars and created from all of those broken hockey sticks. He first exposed the world to his unique recycling plans when showcasing it off at the 2009 Montreal Guitar Show. One of his very cool creation can be yours now on eBay with a "Buy It Now" listed at $1,900.
Here is the item description on eBay.
This guitar is made with used hockey sticks except for the central one, which is laminated with mahogany to make the neck.

The back of the headstock have also been reinforced with mahogany to obtain rigidity and the desired thickness. The hockey sticks used in this project have been played with and have some marks on them and have been lacquered after assembly.
Keep on Playin' CAR!!!!!
Share and Enjoy